We all know her, we know she's famous... but do we know what she's even famous for and how she got there? Sometimes, it seems like the world woke up one day and everyone on the planet knew who Paris Hilton was and fell in love with her. Here's a full timeline on how she grew to be one of the biggest stars the world.

---
Famous Before Fame
Paris Hilton was practically born into fame as she is an heiress of the Hilton Group of Hotels. Her father, Richard Hilton, was a real-estate developer and mother Kathy Richards Hilton was a socialite. Since she was young, the star has only seen fame and fortune - which fueled her to join the acting and modeling world as she got older.
Made For the Camera
Paris has been obsessed with being in front of the camera since she was a teenager. At age 14, the Hilton family moved from California to New York City - where Paris started her modeling and socialite career. This is also where she grew into her rebellious, lavish party character that we see her as today - due to her strict and proper teenage lifestyle. In her new Youtube documentary This Is Paris, Paris said:
"In New York, there's a socialite scene - everyone knew who I was. My mom had us go to etiquette classes, so we basically were taught how to be debutantes.. it's very proper, very prim, almost like a Stepford wife. It just didn't seem real or natural to me. I wasn't allowed to go out or go on dates or school dances because my parents were so strict. "

Party Paris
Paris didn't just get into the party scene - Paris Hilton WAS the party scene. At the young age of 16, Paris grew her reputation to be the wild party girl. Soon, New York would be calling her 'New York's Leading IT Girl' in the early 2000's. She didn't even have to do anything - as long as Paris Hilton was there, everyone would be there too.
The First Reality Star
Paris Hilton really started her career when she starred in her own reality show called The Simple Life, where she and best friend Nicole Richie would try to work simple, ordinary jobs with their reputation as the richest and most lavish girls anyone's ever seen. It made for a hilarious show - and although Paris Hilton's sex tape scandal released shortly before the premiere, the show still became an iconic success. Her reality show would jump-start the reality show business for years to come.
Paris Hilton Makes Kim Kardashian Famous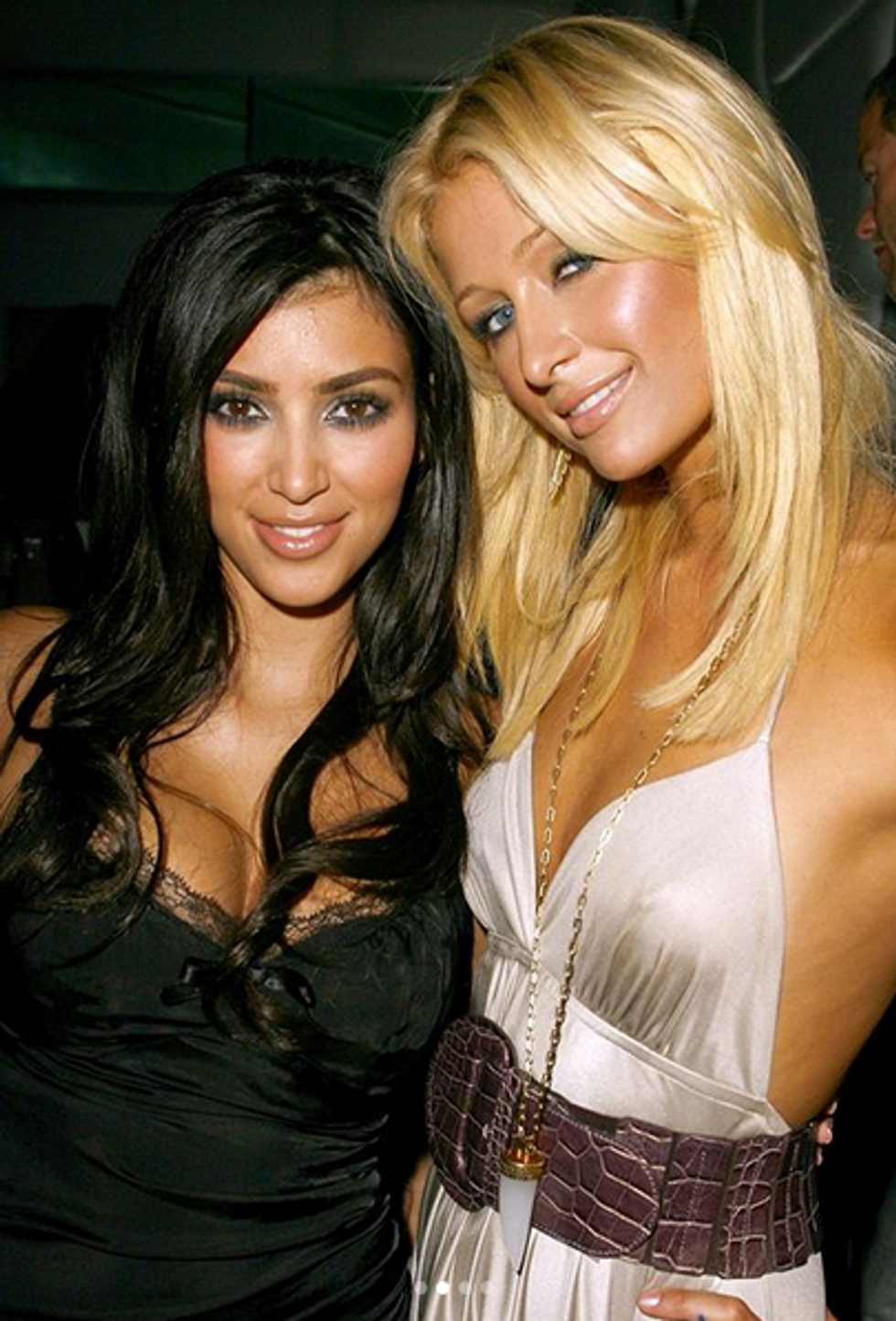 If you're wanting to join the limelight, it probably helps if you're friends with a socialite right? Or even maybe be their assistant! That's exactly what Kim Kardashian's thoughts were as she became Paris' stylist and closet organizer during 'The Simple Life.' The two go way back, as they have had their connection through Nicole Richie even as kids. Kardashian told Rolling Stone in a 2015 interview about their crave for attention back in their prime. She said:
"We'd go anywhere and everywhere just to be seen. We knew exactly where to go, where to be seen, how to have something written about you. All you had to do is go to this restaurant, or this party, talk about whatever you want to talk about, and it would be in the paper the next day."
Although the two have had a rocky relationship throughout the years, Paris recently posted an Instagram picture with Kim as the two were hanging out again. It's an iconic duo that everyone has been waiting for.

Business Queen
After doing many movie cameos, like Zoolander, Wonderland, and Cat In The Hat, Paris started venturing into several business opportunities.
In 2004, Paris released her book Confessions of an Heiress, where she explains her crazy and lavish lifestyle that everyone knows and loves.
That same year, Hilton built a perfume line, a nightclub franchise, and another season of The Simple Life.
She went on to create several different perfumes, hair extensions, Paris Hilton merchandise, and even a record album. This girl has really done it all.

DJ Paris
Just when you think she can't do anything else, Paris Hilton becomes a rave DJ. Paris made her big debut as a DJ and no longer just a ditzy socialite in 2012 at the Pop Music Festival in Sao Paulo, Brazil. She is seen in the picture above performing at the infamous Tomorrowland Festival in 2019.
This Is Paris Official Documentary
Flash forward to 2020, and Paris Hilton just released her raw and emotional documentary on Youtube this September. The almost 2-hour film explains the side of her entire life that the public never got to see - and who she really is behind the glitter, the fame, and her brand. In her documentary, she said:
"I built this kind of shield around me and kind of this persona, almost to hide behind, because I've been through so much where I just didn't even want to think about it anymore......I'm happy for people to know that I am not a dumb blonde, I'm just very good at pretending to be one."
One-On-One: Paris Hilton Opens Up On Traumatic Past In New Documentary | Advocate Channel
Advocate Channel host Sonia Isabelle got to speak with Paris Hilton directly about her vulnerability and strength through filming This Is Paris.
Be sure to watch Paris Hilton's remarkable documentary, streaming on YouTube now.