If you thought the reign of Joe Exotic and Carol Baskin was over, you better gear up for another season of the hit show Tiger King. It's been almost a year and half since the crazy world of big cats took over pop culture, and Netflix just announced that even more chaos is set to unfold in season two.
---
Tiger King is coming back this year — and Season 2 promises just as much mayhem and madness as Season 1! pic.twitter.com/mFBUxtAl6i

— Netflix (@netflix) September 23, 2021
Netflix teased fans early Thursday morning announcing the return of the popular docuseries. Netflix has not yet released the official series premiere date, only disclosing that the smash hit will be back by the end of this Fall. Rumors were previously circulating surrounding the potential for a second season of the show, and now with confirmation, fans are left with heightening anticipation.
Season one of Tiger King encapsulated society, becoming a staple part of pop culture conversation during the beginning of the coronavirus pandemic. Garnering the views of over 64 million Netflix users, the series bled into various media outlets, dominating social platforms, becoming discussions on talk shows, and even boosting Baskin into a spotlight on Dancing with the Stars. It's more than safe to say that season 2 will culminate the same kind of fascination.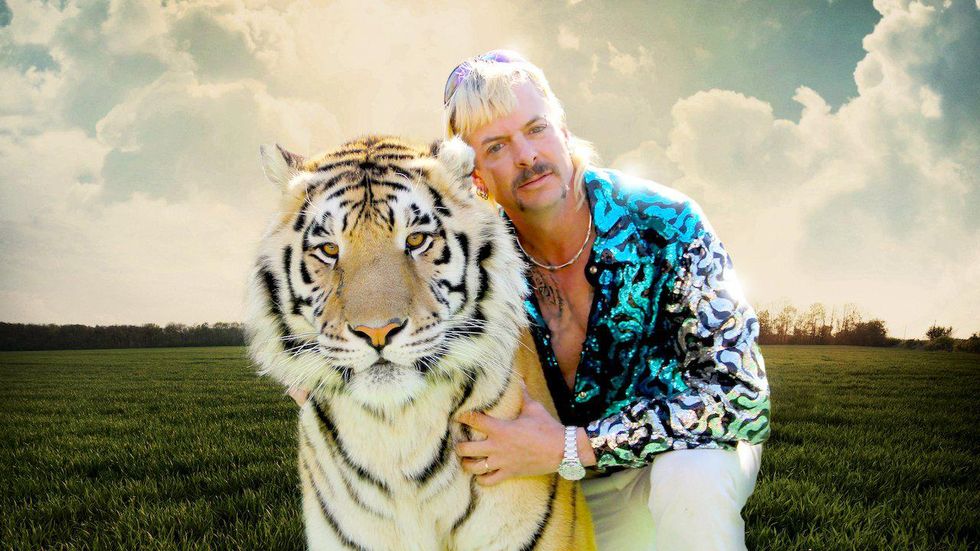 Joe Exotic
Courtesy of Netflix
With season one leaving the door wide open with uncertainties, the contents of season 2 are completely unknown. Fans are still speculating if the 'Tiger King' himself will be making an appearance in the new season since Exotic is currently serving his 22 year prison sentence. Likewise, Baskin's presence is also still up in the air after she was reported have criticized the producers of the documentary. Other infamous stars from season 1, Jeff Lowe and his wife Lauren, had their big cats taken by authorities earlier this May. Their appearances in season two are also unknown.
With both excitement and mystery looming over the premiere of season two, fans will just have to wait and see what the makers of Tiger King have in store. Get ready all you cool cats and kittens!