As Israel retaliates against Hamas, hope is fading for the over 2 million Palestinians trapped in Gaza. For LGBTQ+ Palestinians, there are few ways to pay tribute to their deceased loved ones, and possibly little time to express their love for those still living.
---
On Oct. 7, militant group Hamas launched a surprise attack on Israel, which has seen 1,400 Israelis dead and over 3,500 wounded so far. An estimated 120 others were captured by Hamas and are being held as hostages.
At least 5,100 Palestinian civilians in Gaza have been killed and nearly 15,000 injured since Israel vowed "mighty revenge" on Hamas, according to the Palestinian Health Ministry in Gaza. 40 percent of those killed were children.
Devastation in Gaza
Israel has ordered the 1.1 million Palestinians living in the northern Gaza Strip to evacuate south, signalling an impending ground invasion. As Gaza is already one of the world's most densely populated areas — with more than 2 million people living within 140 square miles — the UN has described the order as "impossible" without "devastating humanitarian consequences."
With no choice but to flee south, Palestinians are lamenting the loss of their homes and loved ones. LGBTQ+ Palestinians, who cannot outwardly express their love without fear of repercussions, are turning to one platform online to anonymously pay tribute to their loved ones and express themselves before the ground invasion begins.

Queering the Map is a community-based online mapping platform where users can submit their personal queer experiences at specific locations to one collective map, in order to let other queer people know that they're not alone where they are. Since its inception, users have contributed over 80,000 submissions in 23 languages.
On Queering the Map, several LGBTQ+ Palestinians have flagged spots where they've had romantic encounters in the Gaza Strip. Others have mourned their lost loved ones, while some have called for the liberation of the Palestinian people.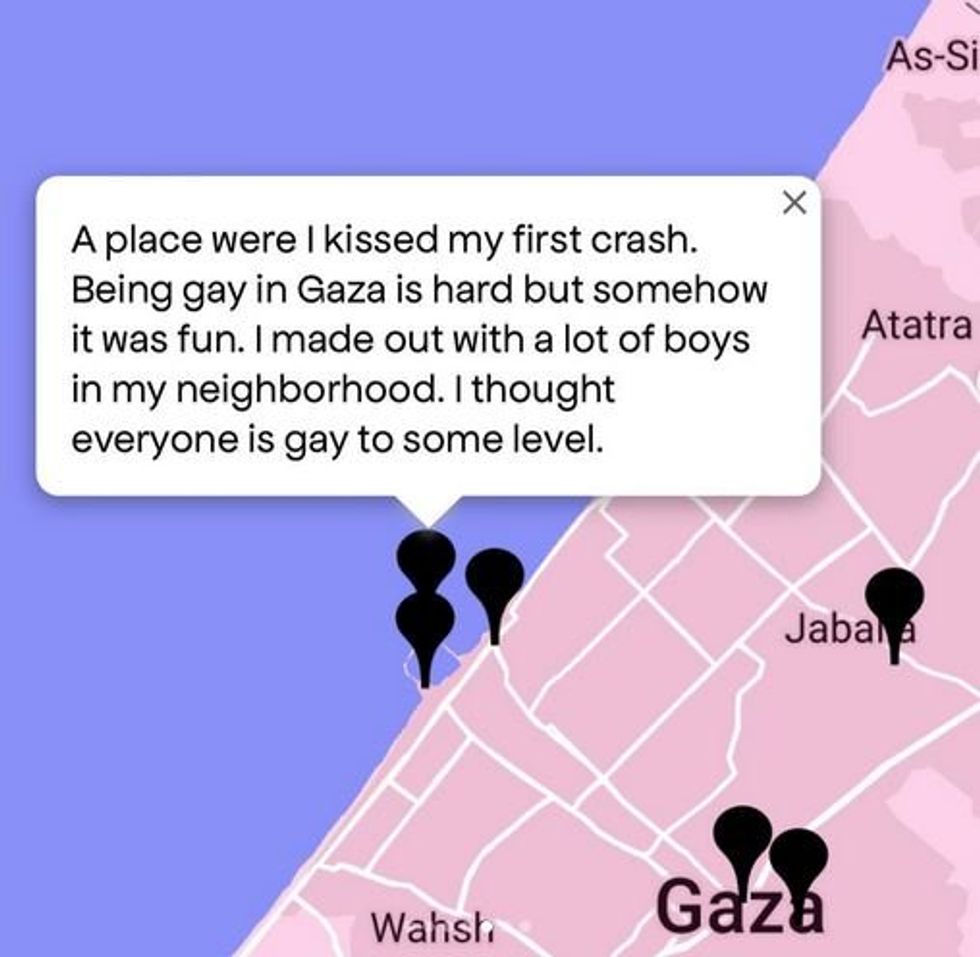 Queering the Map
"Being gay in Gaza is hard but somehow it was fun," part of one reads. "I made out with a lot of boys in my neighborhood."
According to a 2020 Amnesty International report on Palestine, "Section 152 of the Penal Code in Gaza criminalizes [male] consensual same-sex sexual activity and makes it punishable by up to 10 years' imprisonment." Gaza is controlled by Hamas, which imposes Islamic law, but same-sex relationships have been decriminalized in the other Palestinian-controlled territory of West Bank, where the Palestinian Authority governs.
Israel does not permit those in Gaza with Palestinian passports to leave the Strip, which has been likened to an "open-air concentration camp" throughout its 75-year existence. One person, whose secret love was tragically killed in Israeli airstrikes, noted that they used to daydream about traveling together.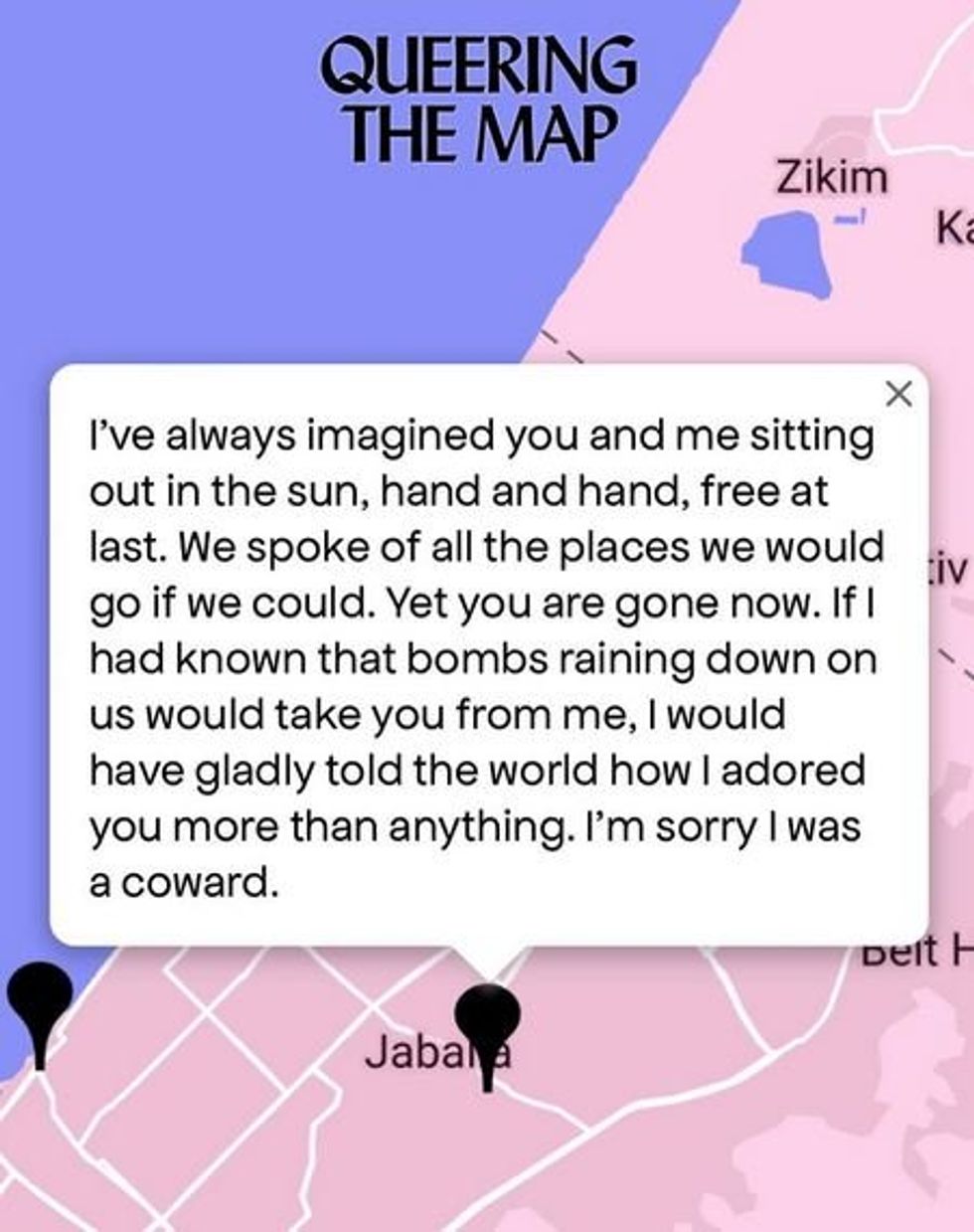 Queering the Map
"I've always imagined you and me sitting out in the sun, hand and hand, free at last. We spoke of all the places we would go if we could. Yet you are gone now," the post reads. "If I had known that bombs raining down on us would take you from me, I would have gladly told the world how I adored you more than anything. I'm sorry I was a coward."
Another person writes: "Pls know despite what the media says there are gay Palestinians. We are here, we are queer. Free Palestine."
Queering the Map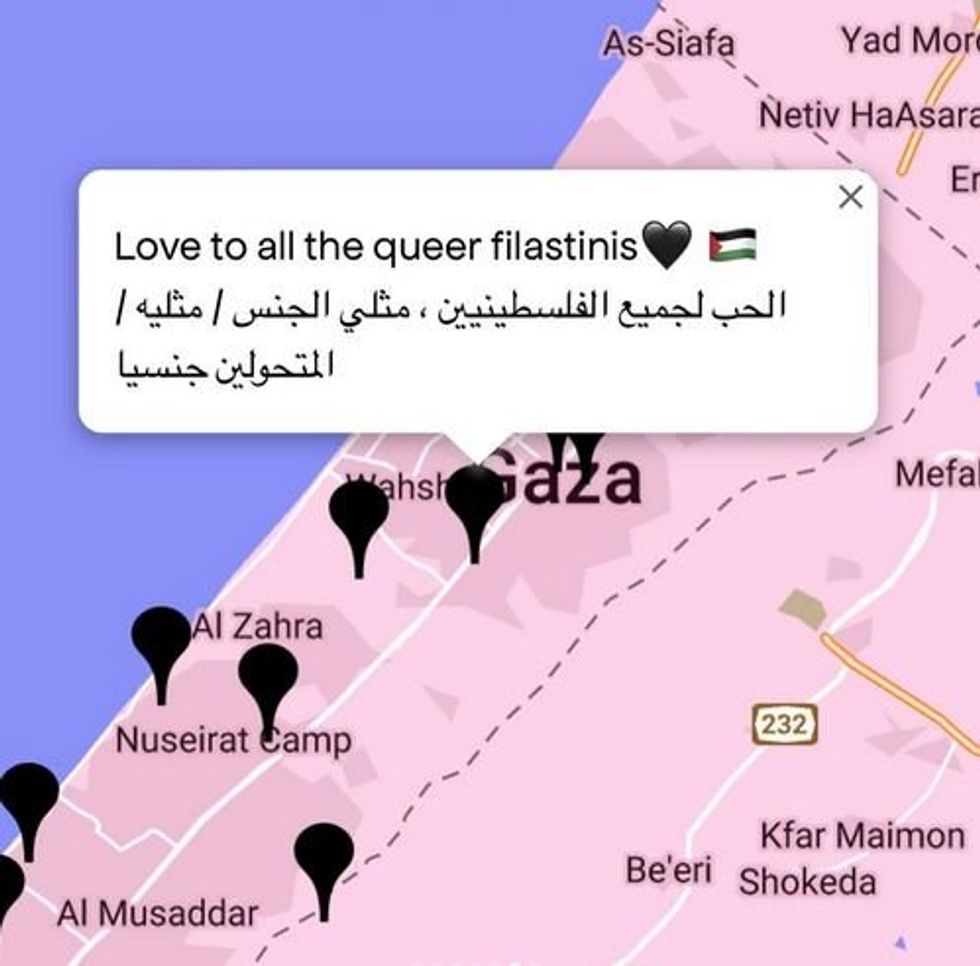 Queering the Map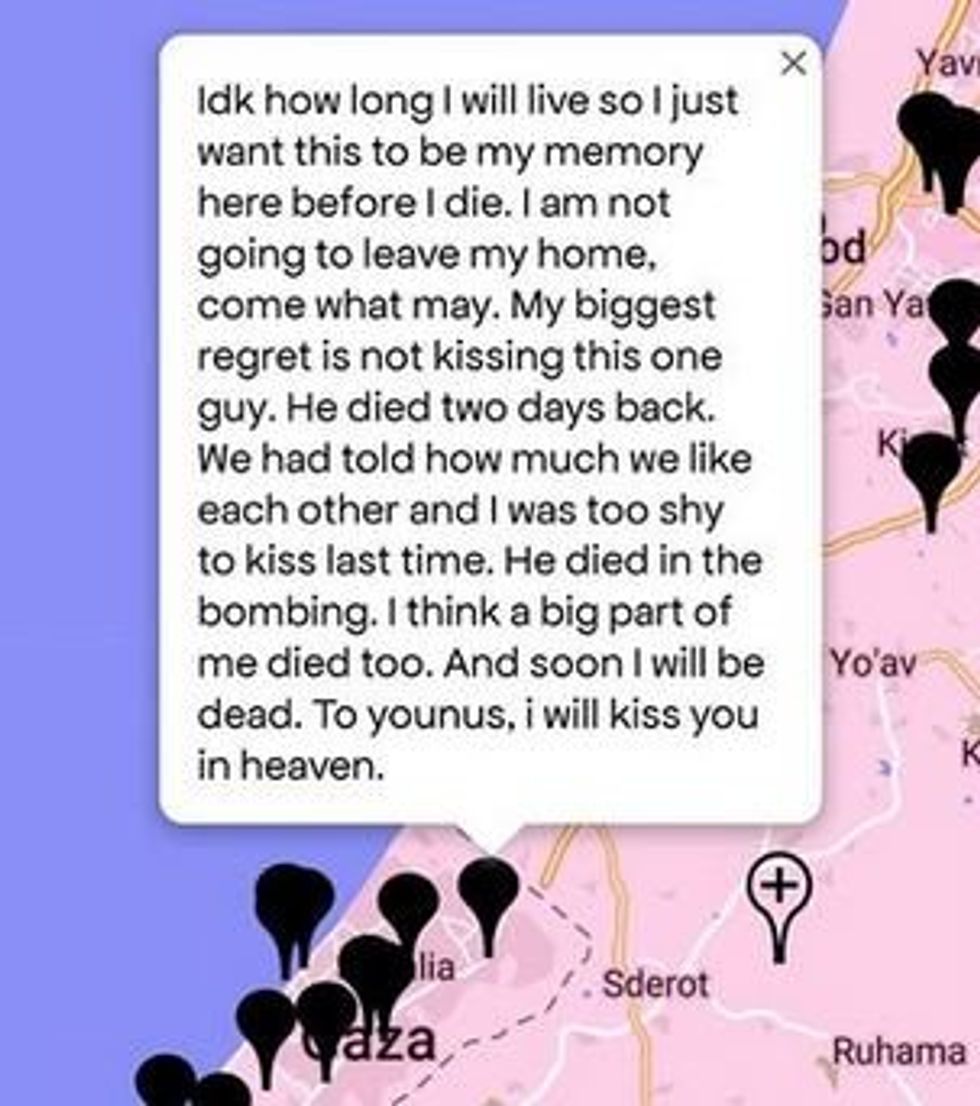 Queering the Map