Drake has denied publicly saying anything about Millie Bobby Brown's birthday.
---
As you may have heard, the Stranger Things actress recently turned 18 and celebrated the milestone with a couple of glamorous photos.
But given some past controversy surrounding Brown's friendship with Drake, a few content creators used the occasion to make jokes about how the rapper was excited about his friend becoming legal, including one TikToker named @skylarsheerman.
In the viral clip, Sheerman paired the aforementioned photos with an audio snippet from Spongebob Squarepants, in which a character says, "finally, I've been trying to catch you, boys, all day," alongside some overlay text that read, "Drake after Millie's 18th bday announcement.'
Drake appeared to laugh off a TikTok video trolling him about celebrating his pal Millie Bobby Brown's 18th birthday after a verified TikTok account that appeared to be Drake's commented a "Loool" under the video.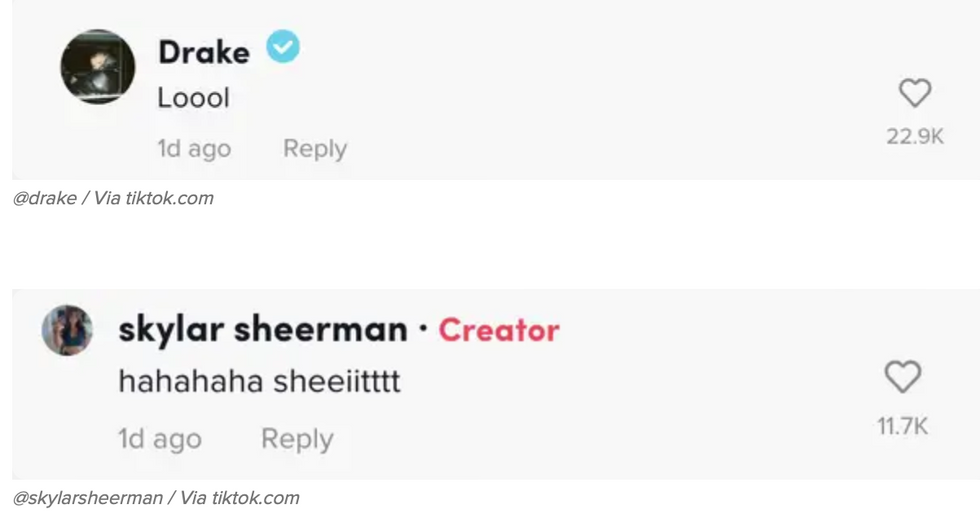 @drake / @skylarsheerman on TikTok
A rep for Drake confirmed to Page Six Tuesday that the "One Dance" rapper does not have TikTok.
Drake and Brown's unlikely friendship first made headlines in September 2018 when the Netflix star revealed the "In My Feelings" rapper texts her.
Brown told Access Hollywood during a red carpet interview at the time that Drake would tell her that he "misses her" and also shared "advice about boys." She was 14 time at the time, and he was 30.
Brown turned 18 on Feb. 19, and the video was shared on the social media platform three days later. She is currently dating Jon Bon Jovi's son Jake Bongiovi, with whom she celebrated her birthday.