Legendary Scottish actor Sean Connery passed away over the weekend in his sleep in Nassau, The Bahamas. His beloved family, close friends, and fans across the entire globe mourn his loss as we remember his eternal legacy, fruitful work, and major successes.
---
Sir Sean Connery was seen in more than 60 movies, most notably portraying the original James Bond in the first seven historic James Bond films. His magnetic energy generated longterm success for the star as his career spanned over five decades.
Dr. No (1962)
From Russia with Love (1963)
Goldfinger (1964)
Thunderball (1965)
You Only Live Twice (1967)
Diamonds are Forever (1971)
Never Say Never Again (1983)
Sean Connery will forever make his mark on one of Hollywood's most well-known films by portraying the iconic secret agent 007 from 1962 to 1983. Producers of the famous films, Michael G. Wilson and Barbara Broccoli stated:
"We are devastated by the news of the passing of Sir Sean Connery. He was and shall always be remembered as the original James Bond whose indelible entrance into cinema history began when he announced those unforgettable words — 'The name's Bond... James Bond' — he revolutionised the world with his gritty and witty portrayal of the sexy and charismatic secret agent. He is undoubtedly largely responsible for the success of the film series and we shall be forever grateful to him."
Sean Connery Wins Major Awards For 'The Name of Rose'
In 1987, Sean Connery won a German Film Award for Best Leading Actor and Best Overall Actor for his work on this project.
Sean Connery Scores Oscar In 1988
Sean Connery received a coveted Academy Award back in 1988 for his performance as Jimmy Malone in the 1987 crime drama The Untouchables.
His humorous speech left all the audience members with smiles on their face as he showed his gratitude to the Academy.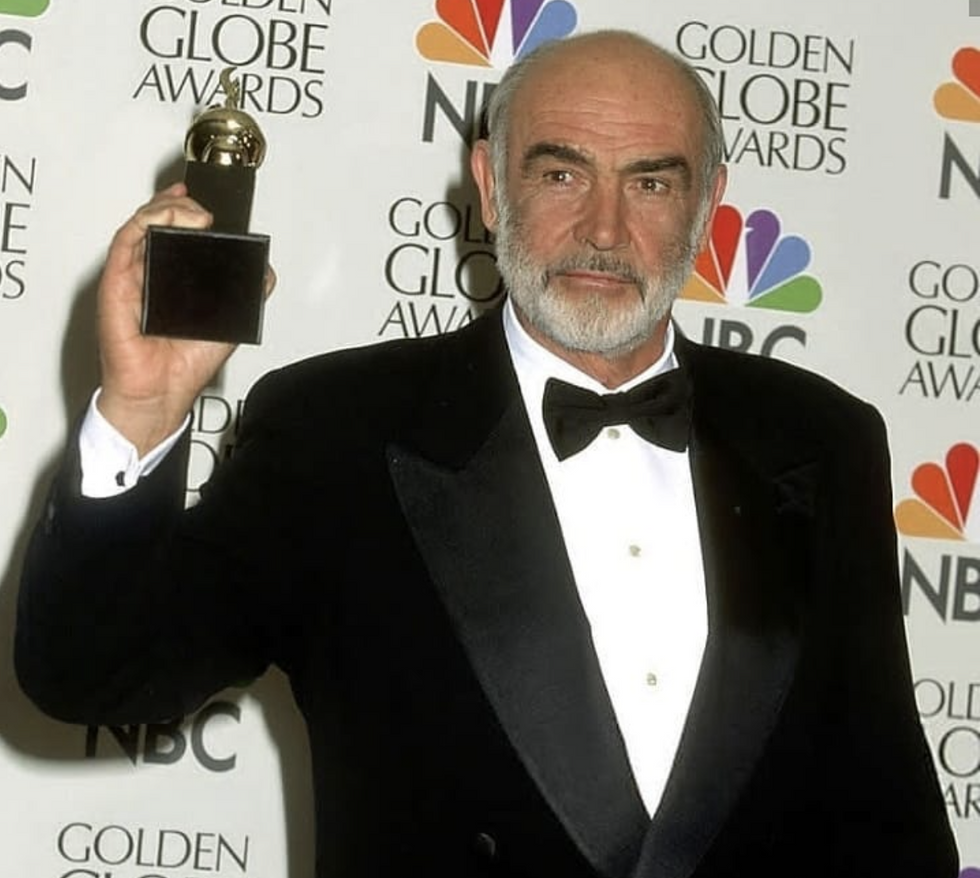 Sean Connery
The star received a Golden Globe and BAFTA Award for his supporting role in The Untouchables, along with the Actor of the Year Award at London Film Critics' Circle.
10 years later, the original James Bond went home with the MTV Movie Award for Best On-Screen Duo with Nicolas Cage for their work in The Rock.
Connery also made his mark in theater by producing a play that hit Broadway in 1998 titled Art which one a Tony Award for Best Play.
Sir Sean Connery Wins 2006 AFI Life Achievement Award
Sir Sean Connery also won an AFI Life Achievement Award back in 2006 which recognizes one individual's incredible lifetime contribution to film and television.
Sean Connery made his brilliant mark on the world of entertainment. May he rest in peace.