Democratic Rep. Rashida Tlaib, who is the only Palestinian-American member of Congress, had some sharp words for President Joe Biden after an airstrike killed hundreds at a hospital in Gaza Tuesday.
---
Palestinian officials said the Israeli military was responsible for the strike, which killed just under 500 people initially. Tlaib said Tuesday that Biden's encouragement and support of Israel, instead of pushing for de-escalation, is partially to blame for the devastation.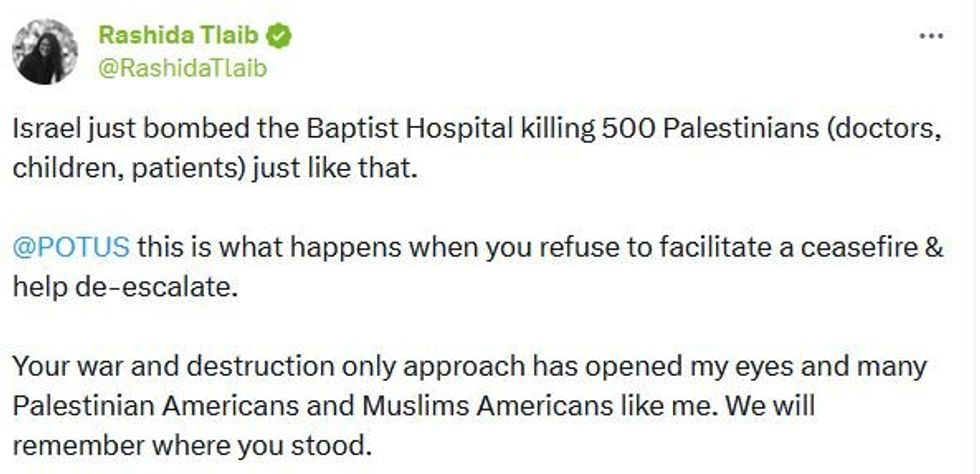 @RashidaTlaib / X
"Israel just bombed the Baptist Hospital killing 500 Palestinians (doctors, children, patients) just like that," she wrote on X, formerly known as Twitter. "@POTUS this is what happens when you refuse to facilitate a ceasefire & help de-escalate. Your war and destruction only approach has opened my eyes and many Palestinian Americans and Muslims Americans like me. We will remember where you stood."
The Israeli military has denied responsibility for the attack. However, there have been several social media posts and reports from Israeli officials that suggest contradictory narratives.
Devastation in Gaza
As Al Jazeera noted, it would not be the first time the Israeli military has lied about their involvement in civilian deaths, following the killing of Al Jazeera journalist Shireen Abu Akleh. The Israeli government first denied a role in her death, but later confessed after multiple independent investigations confirmed that only an Israeli soldier could have killed her.

In a statement issued Tuesday, the World Health Organization (WHO) noted that there had already been over 51 attacks on healthcare facilities in Gaza since the start of the conflict Oct. 7. Fifteen healthcare workers have been killed, and 27 injured. The Israeli military itself had issued evacuation orders to 22 hospitals last week, which were treating more than 2,000 patients in the Gaza Strip.
Tlaib has been critical of President Biden's response to the conflict since it began, stating previously that "as long as our country provides billions in unconditional funding to support the apartheid government, this heartbreaking cycle of violence will continue."