Chrissy Teigen has been dropped from the brand that she founded with business mogul Kris Jenner after sales plummeted following an old tweet of her that resurfaced from 2011, where she told 16-year-old at the time TV personality and model Courtney Stodden to kill themselves.
---
The business partners debuted their brand Safely in early May of this year, with promotions for the brand including both stars. Since the cyber bullying scandal Teigen has not been seen once.
The formally known "Queen of Twitter," has taken nearly a months break from social media , after making a public apology to Stodden, May 12 on Twitter.
"Not a lot of people are lucky enough to be held accountable for all their past bulls**t in front of the entire world. I'm mortified and sad at who I used to be," Teigen wrote. "I was an insecure, attention seeking troll. I am ashamed and completely embarrassed at my behavior but that is nothing compared to how I made Courtney feel. I have tried to connect with Courtney privately but since I publicly fueled all this, I want to also publicly apologize. I'm so sorry, Courtney. I hope you can heal now knowing how deeply sorry I am," she concluded.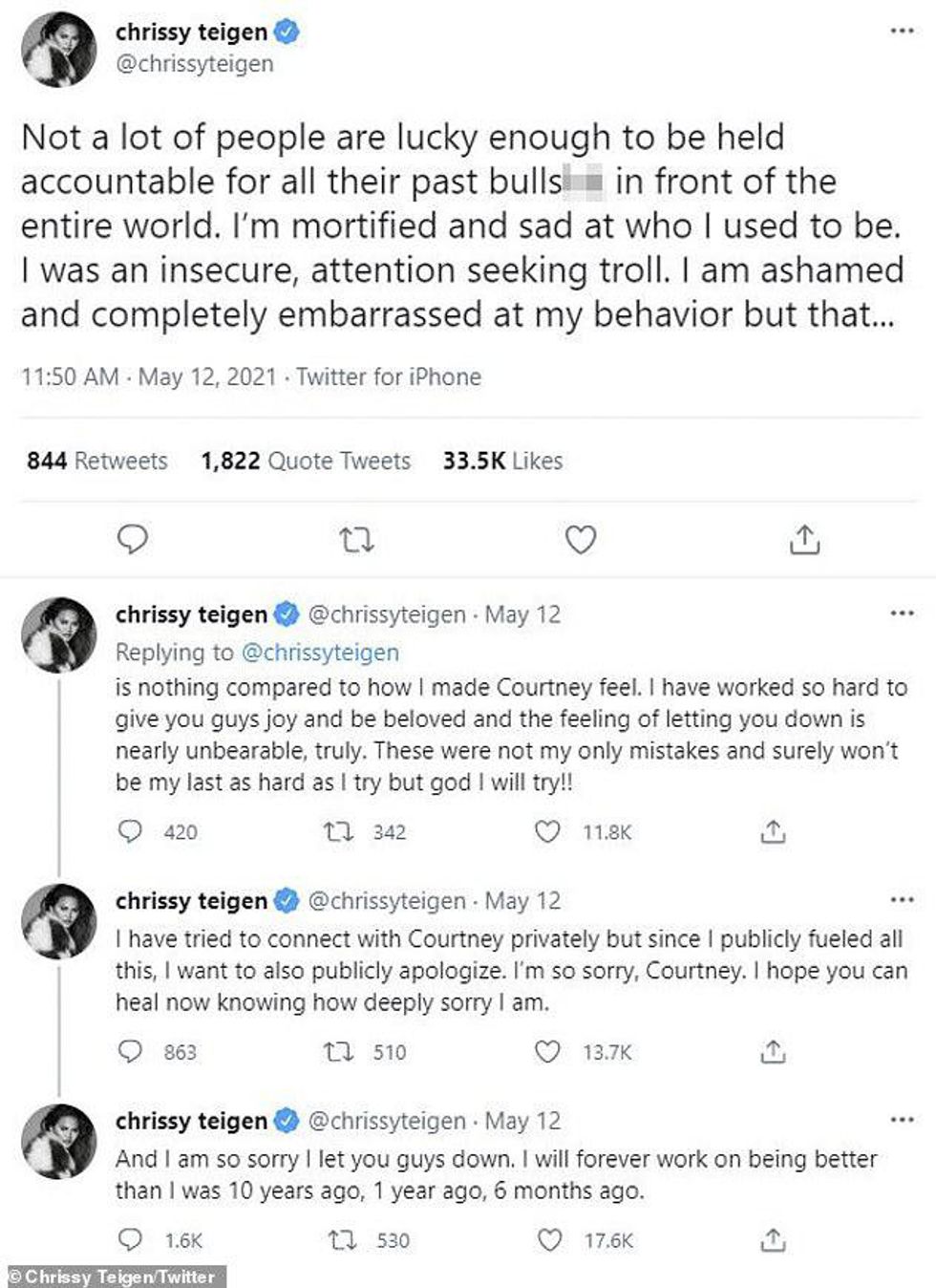 Stodden accepted the apology but said that they had never heard privately from Teigen, and she had still had them blocked on Twitter last year. Stodden then took to her own social media to address the scandal.
"I accept her apology and forgive her. But the truth remains the same, I have never heard from her or her camp in private," Stodden said. Stodden went on to say the apology seemed to be for Chrissy to redeem herself with brand partnerships, and not out of sincerity. "All of me wants to believe this is a sincere apology, but it feels like a public attempt to save her partnerships with Target and other brands who are realizing her 'wokeness' is a broken record."
When the scandal was first in the public eye, Target discontinued Teigen's line of cookware 'Cravings.' A few weeks later Macy's also dropped her cookware line and it was said that Bloomingdale's backed out of a hefty deal with the model.
Teigen was set to guest star as a voice-over on the second season of Netflix's show Never Have I Ever , but a spokesperson for the show told Vulture Teigen "decided to step away from the guest role." The VoiceOver has since been recorded by a new celebrity.
The wife of John Legend , who has two young children 5-year-old daughter Luna and 3-year-old Miles, has never been on to keep her opinions to herself on her Twitter account. Over the years Teigen has publicly berated other celebrity women on Twitter in a vile way, including Lindsay Lohan , Sarah Palin , and Avril Lavigne.
John Legend took to Instagram to post a picture of his wife with their daughter at her dance recital captioning it "So proud of our little dancer!"
Many fans commented how they miss Chrissy's appearance on social media and how they are ready for her return.