Moving right along through this year's award show season, the 74th Tony Awards were held Sunday night in celebration of Broadway's return to the stage.
---
Praising the best theater performances from 2019 all the way up until this year, the 2021 Tony Awards ensured to culminate all of the exciting Broadway successes since before the Covid-19 pandemic took over the stage.

If there really are "Wheels of a Dream," we like where @thegoodfight's @AudraEqualityMc and @bstokesmitchell are taking us. #TonyAwardspic.twitter.com/tKlIY1rvg0

— CBS (@CBS) 1632714246
Legendary actress and singer, Audra McDonald hosted last night's celebration, followed by a CBS special program hosted by Leslie Odom Jr., The Tony Awards Present: Broadway's Back. McDonald began the night off with a bang by teaming back up with former co-star Brian Stokes Mitchell to perform a song from Ragtime the Musical.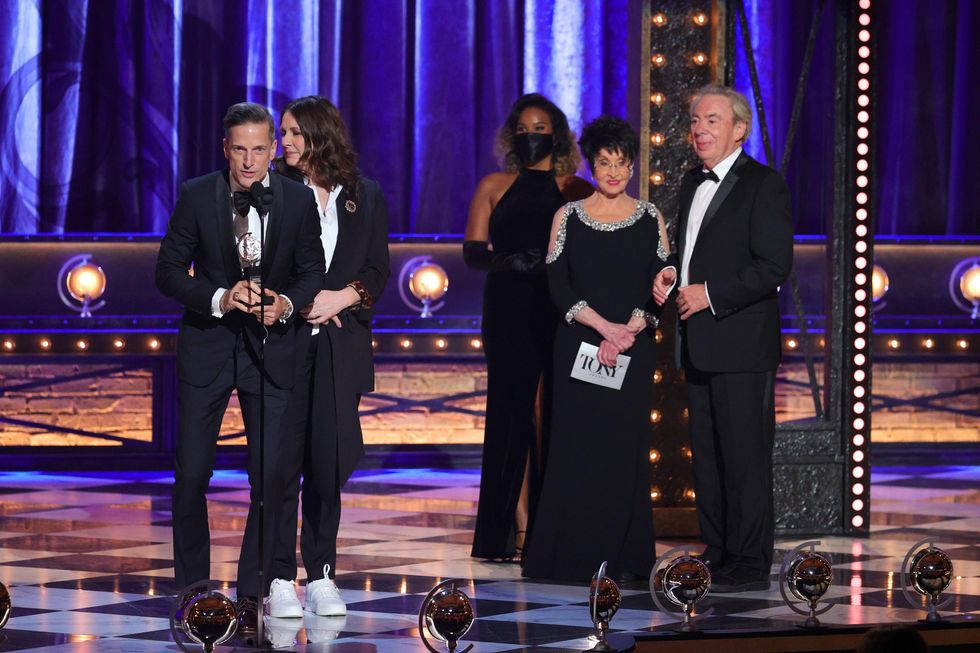 The cast of 'Moulin Rouge' accepts their awards for Best Musical
Courtesy of Getty Images
Although Jagged Little Pill led the race for the most nominations, Moulin Rouge! triumphed the night, bringing home a total of ten awards. In arguably the tightest race of the night, Moulin Rouge! beat out Jagged Little Pill for Best Musical. Moulin Rouge! also claimed awards for Best Leading Actor, Aaron Tveit, Best Featured Actor, Danny Burstein, and Best Lighting, Costume, Choreography, Scenic Design, and Sound Design, among several others.
Straying from typical Tony's tradition, Tveit took home his award as the sole nominee in his category. The Tony Awards Rules state that sole nominees still must acquire 60% of votes in order to take home the award, which Tveit successfully did.
Burstein, who was celebrating his first Tony win, graciously thanked the support that the Broadway community offered him when his wife and former performer, Rebecca Luker, passed away from ALS this past December.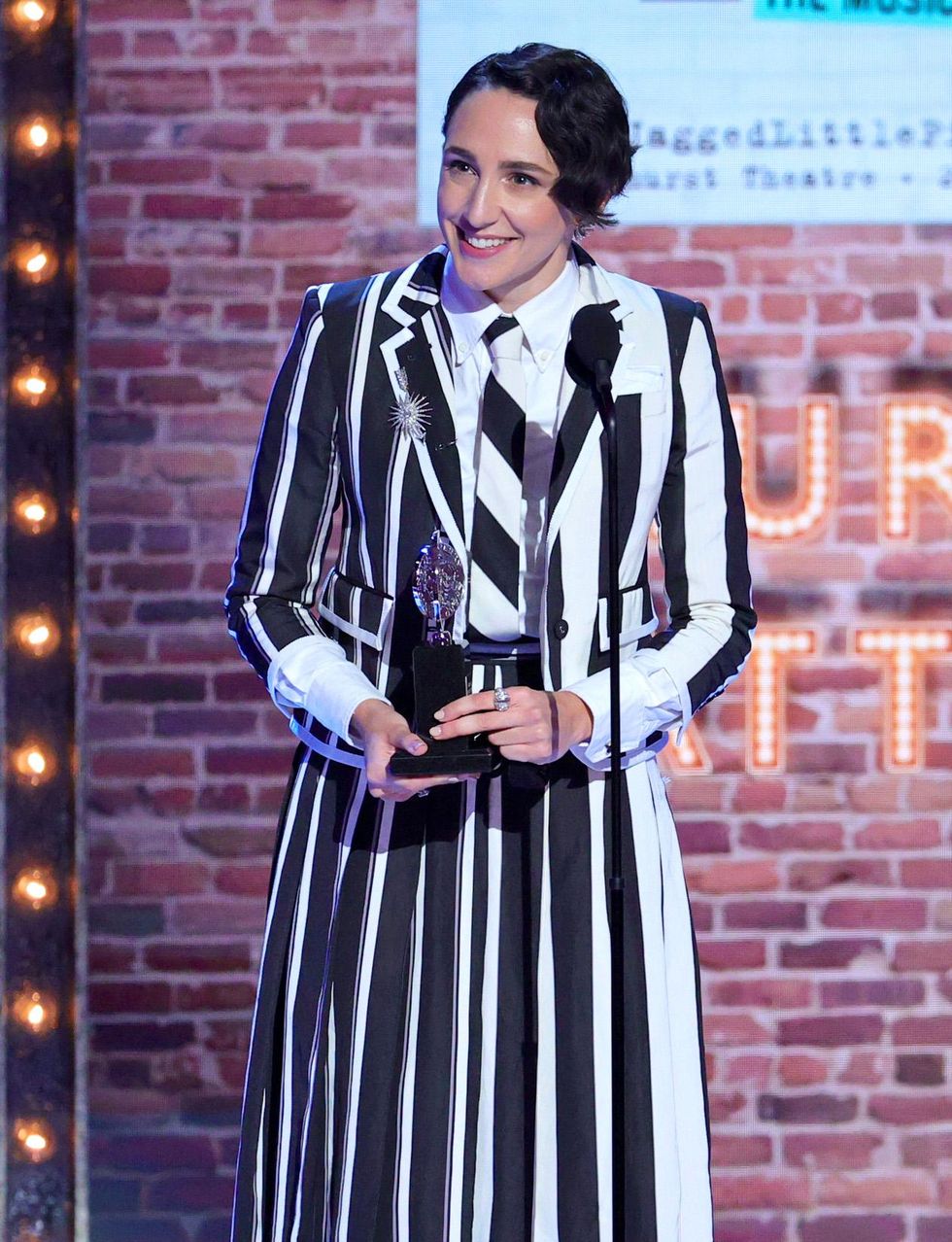 Lauren Patten accepts award for Best Actress in a Featured Role
Courtesy of Getty Images
Still walking away with some of the greatest wins of the night, Jagged Little Pill received its fair share of awards as well. The musical took home an award for Best Book of a Musical, and performer, Lauren Patten with Best Actress in a Featured Role.
While accepting her award, Patten touched upon the recent controversy that has circulated surrounding the gender identity of her character in the musical. Thanking the Broadway community for holding producers, directors, and actors accountable, Patten's speech was surely a standout of the night.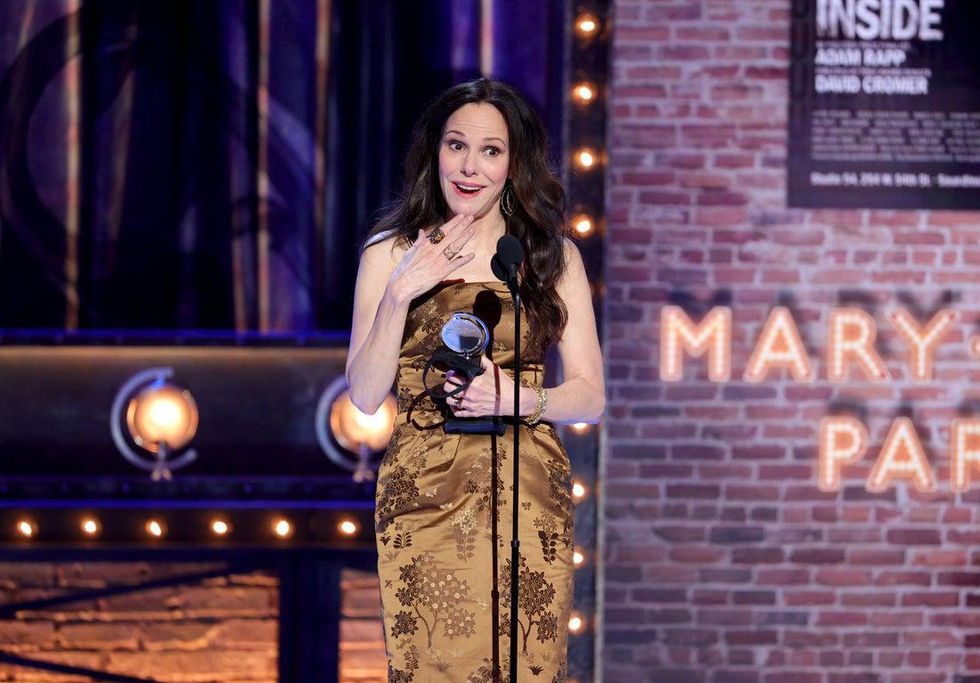 Mary-Louise Parker accepts her award for Best Actress in a Leading Role for a Play
Courtesy of Getty Images
Other remarkable awards from last night were the awards for Best Actress. Adrienne Warren's role as Tina Turner in Tina - The Tina Turner Musical brought her the Tony for Best Actress in a Leading Role for a Musical, and Mary-Louise Parker's role in The Sound Inside brought her the Tony for Best Actress in a Leading Role for a Play.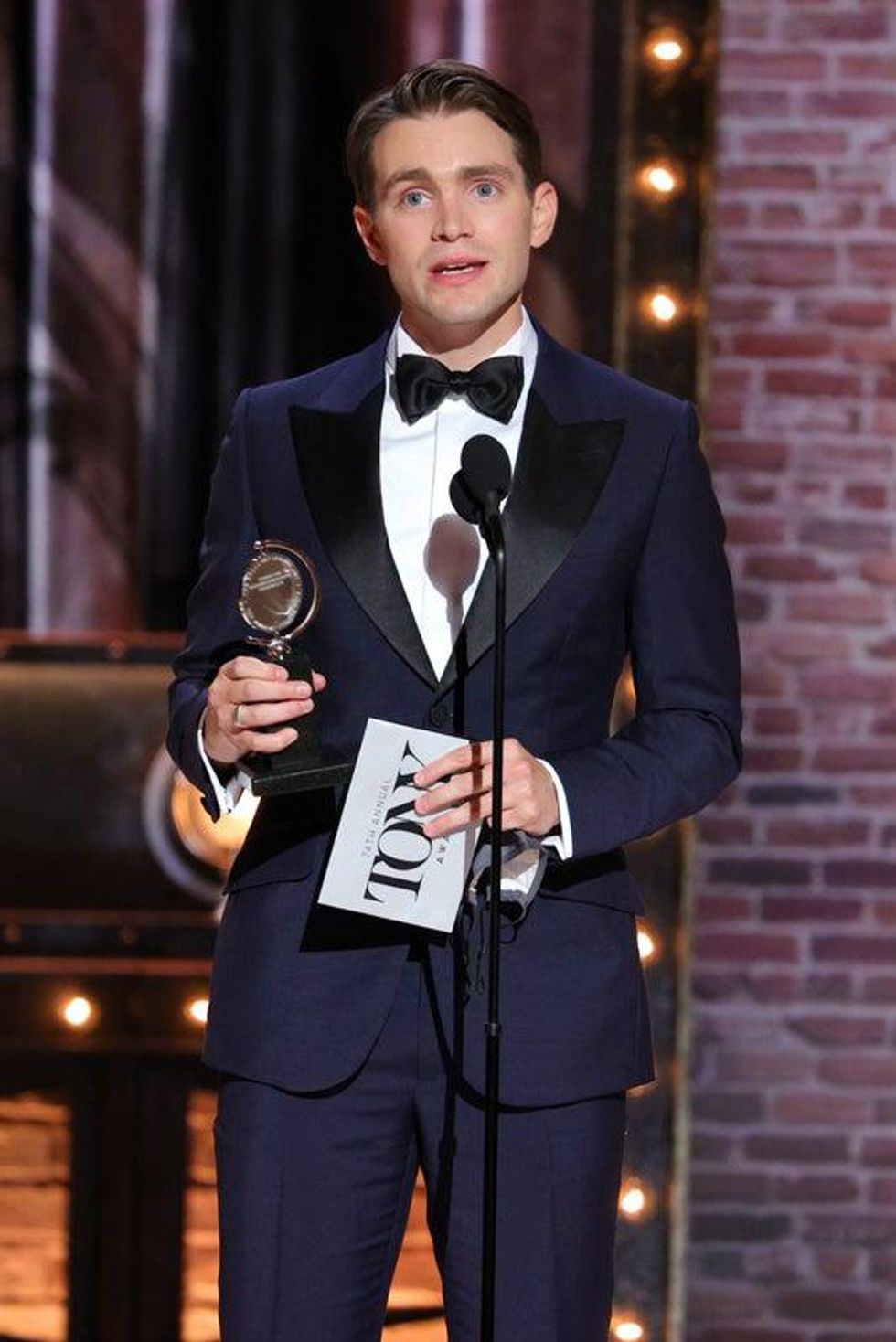 Andrew Burnap accepts the award for Best Actor in a Leading Role in a Play
Courtesy of Getty Images
Another big win from last night was awarded to Andrew Burnap, taking home the Tony for Best Actor in a Leading Role in a Play for his performance in The Inheritance.
How do you sum up tonight's @TheTonyAwards Present: Broadway's Back special?

Give @freestylelove Supreme feat. @Lin_Manuel@WayneBrady@ChrisisSingin & @UTKtheINC four minutes and they'll do it for you! #TonyAwards#Hamilton#BullCBS#LMADpic.twitter.com/3ERuP9IC3c

— CBS (@CBS) September 27, 2021
The 74th Tony Awards were also made memorable by the awe-striking performances made last night. The three nominees for Best Musical, Moulin Rouge!, Jagged Little Pill, and Tina, all performed songs from their shows.
The cast of Hairspray reunited on stage in a touching, metaphorical remembrance of when Broadway last took a break from the stage to honor those fallen on 9/11. The reunion was similarly inspired by those fallen from Covid-19.
Lin-Manuel Miranda closed off the night with members of Freestyle Love Supreme to perform a recap of the Tony's impressive reappearance in the award show season.