After starring in The Matrix, The Matrix Reloaded, and The Matrix Revolutions, Keanu Reeves is bringing Neo back as we speak.
---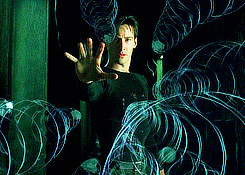 Giphy
In a recent interview with The Empire, Reeves explains how he joined director Lana Wachowski for a fourth film. Upon reading the script, Reeves became interested, describing the script as "beautiful" and a "wonderful story." On working with Wachowski again, Reeves says:
"That's the only reason to do it. To work with her again is just amazing. It's been really special, and the story has, I think, some meaningful things to say, and that we can take some nourishment from."

Carrie Ann Moss, who plays Trinity also describes the script as a "gift," saying:
"When it was brought to me in the way that it was brought to me, with incredible depth and all of the integrity and artistry that you could imagine, I was like, 'This is a gift.' It was just very exciting."
In The Works
Keanu Reeves and Carrie Ann Moss on set of #Matrix4 in downtown SFpic.twitter.com/SgY3ik10g3

— Culture Crave 🎥 (@CultureCrave) February 22, 2020
In February 2020, footage of the cast and crew on set began circulating. Filming began in San Francisco and will move to Germany and then to Chicago. As for the cast, not only will Reeves and moss be returning, but Jada Smith as Niobe will join along with Lambert Wilson as The Merovingian. The film is set to release on May 21st, 2021.
Although the characters of Neo and Trinity have both died, we must follow the white rabbit to see how their roles will resurrect!