There are many beautiful places to visit in Vegas, but few are quite as jaw-dropping as the Conservatory and Botanical Garden at the Bellagio. Four times a year they unveil a gorgeous new display, and now it's time to see what they've done for fall...
---
Bellagio's Conservatory & Botanical Garden's autumn display transports guests "Deeper Into the Woods" for an enchanting journey through a magical forest filled with playful woodland creatures and one-of-a-kind artistic floral arrangements. The dazzling display, imagined by designer Ed Libby, was brought to life by Bellagio's Horticulture team and is open now through November 13.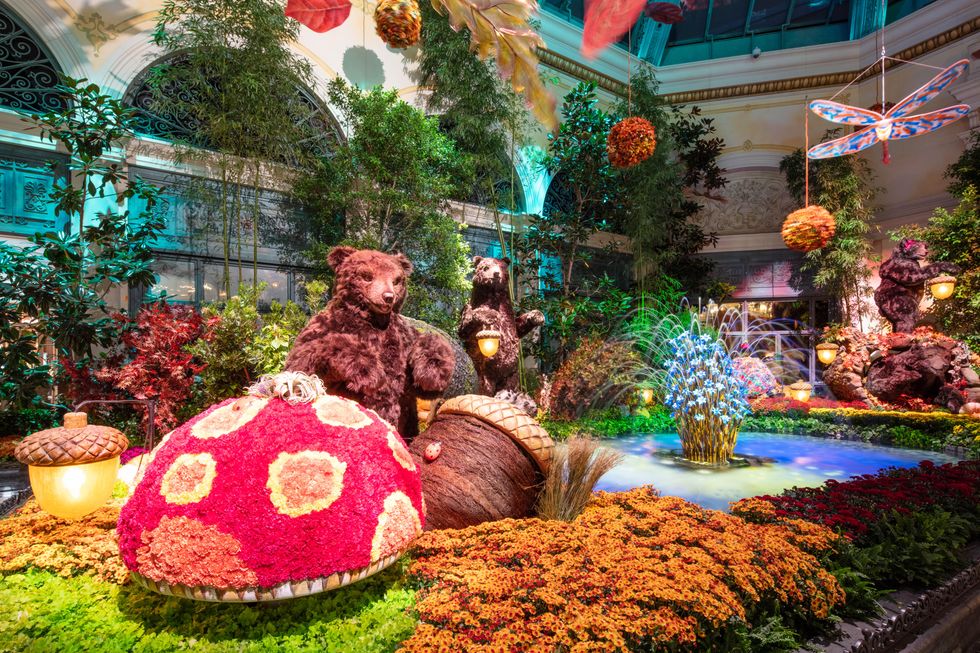 Photos by: Tory Kooyman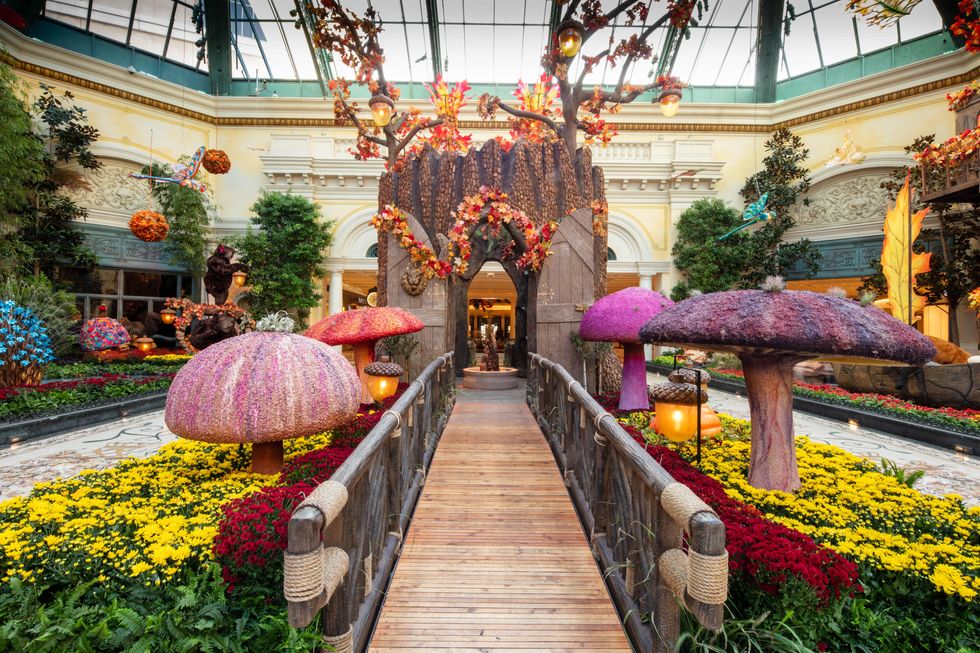 Photos by: Tory Kooyman
Upon entering the Bellagio Conservatory, guests are instantly immersed into the heart of a forest featuring bright-colored floral mushroom topiaries, towering ginkgo trees, festive foliage and whimsical dragonflies dancing overhead.
"As guests embark on their journey Deeper Into the Woods, a fairytale-like adventure inspires transformation and reflection at each turn," said Libby. "Our fall display is designed to be a fully immersive experience through delightful visuals, scents and sounds that give guests the familiar warm and cozy autumn feeling."
Welcoming guests at the center of the West Bed is a gleaming fairy house, surrounded by flowing water symbolizing renewal and featuring snails with large hand-painted spiral shells, oversized 800-pound gourds and an abundance of floral mushrooms. The tall ginkgo trees covered in lush golden leaves arching over the garden and creating a charming autumn scene. Symbols of transformation and adaptability are reflected in the dragonflies flying overhead.
In the North Bed, a family of four playful grizzly bears sits beside an abundant water fountain made of copper-stemmed glass-blown blue flowers, while waving to guests inviting everyone to celebrate the new season with all the nearby woodland creatures.
The East Bed creates a stunning pathway through the Bellagio Conservatory with a large hollow tree flanked with two wooden doors guiding guests into the woods beyond. Iconic red-orange leaves crown the tree and are incorporated in the large, detailed lanterns overhead. Colorful floral mushrooms accompany acorn-shaped lanterns as well as pumpkins and gourds of all shapes, colors and sizes.
In the South Bed, guests are greeted by a family of friendly foxes. Two adventurous foxes sail the Koi fishpond in a hand-crafted sailboat marked with the iconic Bellagio "B." Meanwhile, another peacefully dozes beneath a large mushroom topiary topped with colorful flowers while another playfully rolls in a majestic waterfall. Nestled among the full bed of botanicals is a magnificent floral-embellished hand-hewn wooden treehouse with a spiral staircase.
Bellagio's Conservatory & Botanical Gardens is complimentary to the public and open 24 hours a day, seven days a week. To learn more, please visit Bellagio's Newsroom.
59,950: Total number of fresh-cut carnations used on the mushrooms
19: Number of mushrooms
7 feet: Diameter of largest mushroom
8,730 pounds: Total weight of pumpkins used in the display
2,000: Number of Chester Fern border plants used in the display
838 pounds: Weight of largest giant pumpkin used in the display
1,998: Number of ivy plants used in the border of the beds
97: Team members involved in the display's assembly
44: Types of flowers, shrubs and trees used in the display
40: Number of illuminated acorns
18: Number of floral mushrooms
10: Number of flickering dragonflies
6: Number of friendly foxes
6: Number of dazzling ladybugs
5: Number of lively hedgehogs
4: Number playful grizzly bears
3: Number of perky prairie dogs
3: Number of enchanted fairies
2: Number of resourceful squirrels