Nikkie Tutorials (real name Nikkie de Jager) looks breathtaking on the cover of The Knot's fall issue, becoming the first out trans woman to receive that honor in the process.
---
The YouTube beauty guru turned makeup mogul opened up about her upcoming wedding plans, her romantic proposal story, and how her soon-to-be husband Dylan (literally) held her hand while she came out as trans to the world in 2020.
Nikkie began her beauty influencer career on YouTube at age 14 and has since amassed nearly 14 million subscribers. It's an incredible feat and also a massive audience to come out to, especially before she was totally ready to do so. Her hand was forced when blackmailers threatened to out her as trans; Her response was to post a beautiful and moving video on her channel entitled "I'm Coming Out". It was a brave moment and fortunately, as she told The Knot, Nikkie didn't have to go through it alone.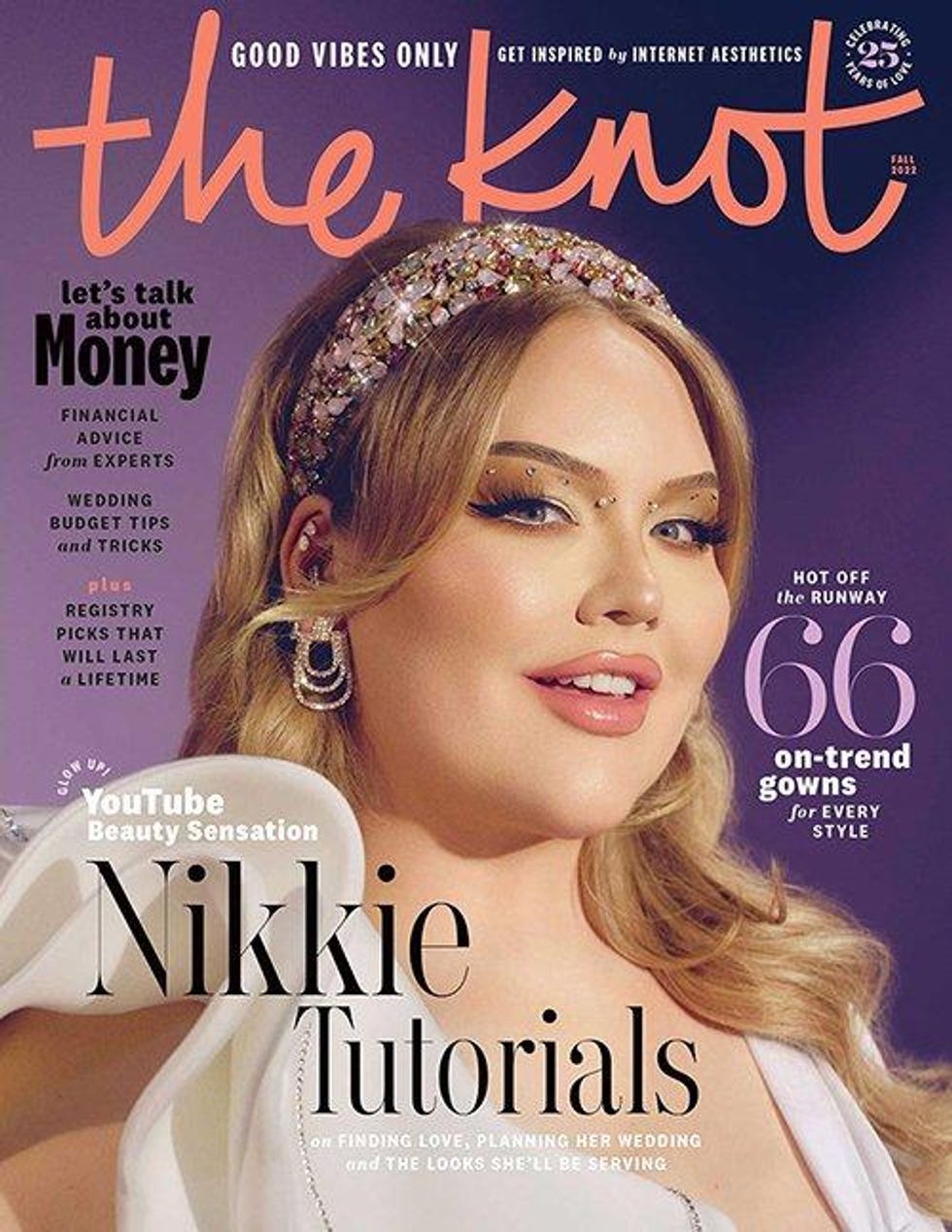 "While my coming out was one of the scariest moments of my life, I had a couple of rocks surrounding me. And one of those people was Dylan. He was everything I hoped he would be for me in that period because he was super, super supportive. He was with me throughout every second. When I had to click publish on my coming-out video, it was a very scary moment, because you don't know what the future will bring. He took my hand and looked me in the eyes and said, 'You're going to publish this. We're going to be fine. You got this. Whatever happens happens, but know that we have each other and it'll be just fine.' When he said that I was like, 'This man is never leaving me, and I'm never leaving this man.' I thought, 'That's my person. He is mine until the end of time," Nikkie recounted to The Knot.
Should it come as any surprise that he also totally nailed the proposal? Nikkie shared that the whole thing went down in a cave in Southern Italy, natch. It was the ultimate influencer proposal: The two had planned a photo shoot of Nikkie for the 'Gram, but when Dylan asked her to take some of him, he took the opportunity to pop the question, catching her totally off guard.
"The first thing I said was, 'Are you sure? Really, with me?' And then after he insisted that, yes, he wanted me to be his wife, I said yes," she recalled. "And then, because we were in a cave, there was no phone connection. We couldn't call or text anyone. So it was great to really celebrate that moment with each other, just the two of us. It's a moment I'll never forget."
Nikkie also dished on her dress, which is being custom designed, of course.
"It's going to be a lot of dress. It's going to be shiny. It's going to be glamorous." Her makeup plans — she will be doing her own; again, of course. "Nobody can touch these brows like I do. It's all going to be me." And the food. "I think our theme is food. I might just pull up in a Lady Gaga meat dress. We love food so much, so of course, we have to give our guests the best of the best. I'm really excited for even our guests to see what we came up with," she teased.
While it's all no doubt going to be a glitz and glam affair perfectly suited to its bride, it's also the kind of fairytale ending she deserves. We love to see it.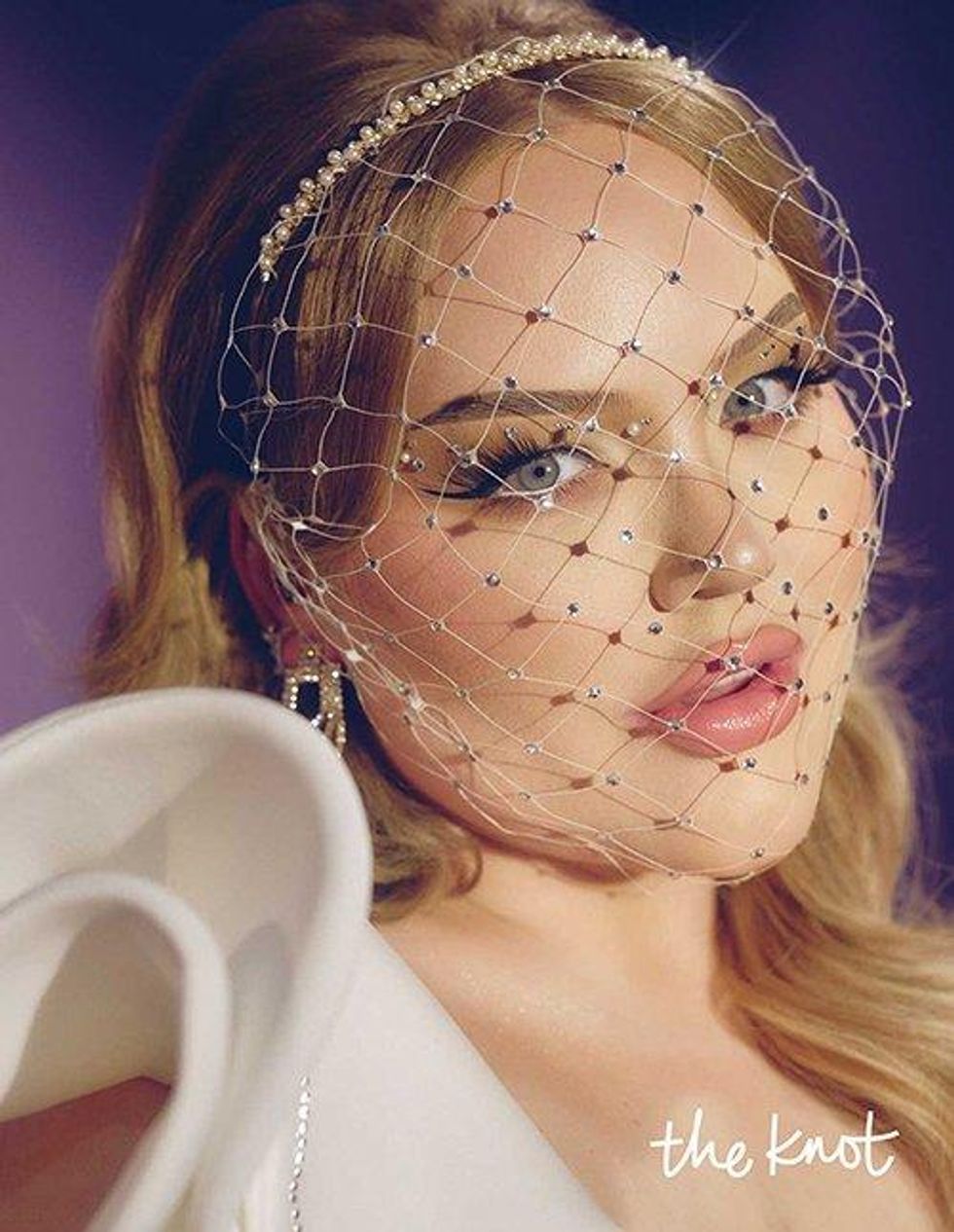 Read the full interview with Nikkie Tutorials now on TheKnot.com.
From Your Site Articles
Related Articles Around the Web