Nicki Minaj's husband, Kenneth Petty, has been placed under house arrest for failing to register as a sex offender.
---
Petty, who pleaded guilty to the charges in September, has been sentenced to in-home confinement, probation and fines, as a public information officer for the U.S. Attorney's office in Los Angeles shared,
"Kenneth Petty pleaded guilty in September 2021 to one count of failure to register as a sex offender. Yesterday afternoon, a U.S. District Judge sentenced Mr. Petty to three years of probation, one year of home confinement, and ordered him to pay a fine of $55,000."
Petty's accusations come from 1994, when a sixteen-year-old girl accused him, also age sixteen at the time, of raping her at knifepoint. He initially maintained his innocence before pleading guilty and serving four years in prison.
A traffic stop in 2019 revealed to law enforcement that Petty had failed to register as a sex offender after his move from New York to California. He avoided registration until March 2020, when he self-surrendered and was released on $20,000 bond.
Minaj has previously defended her husband's behavior from disapproving fans. When the couple made it "Instagram official," several users voiced their concerns in the comments, prompting Minaj to respond,
"He was fifteen, she was sixteen… in a relationship. But go [off] internet. Ya'll can't run my life. Ya'll can't even run ya'll own life."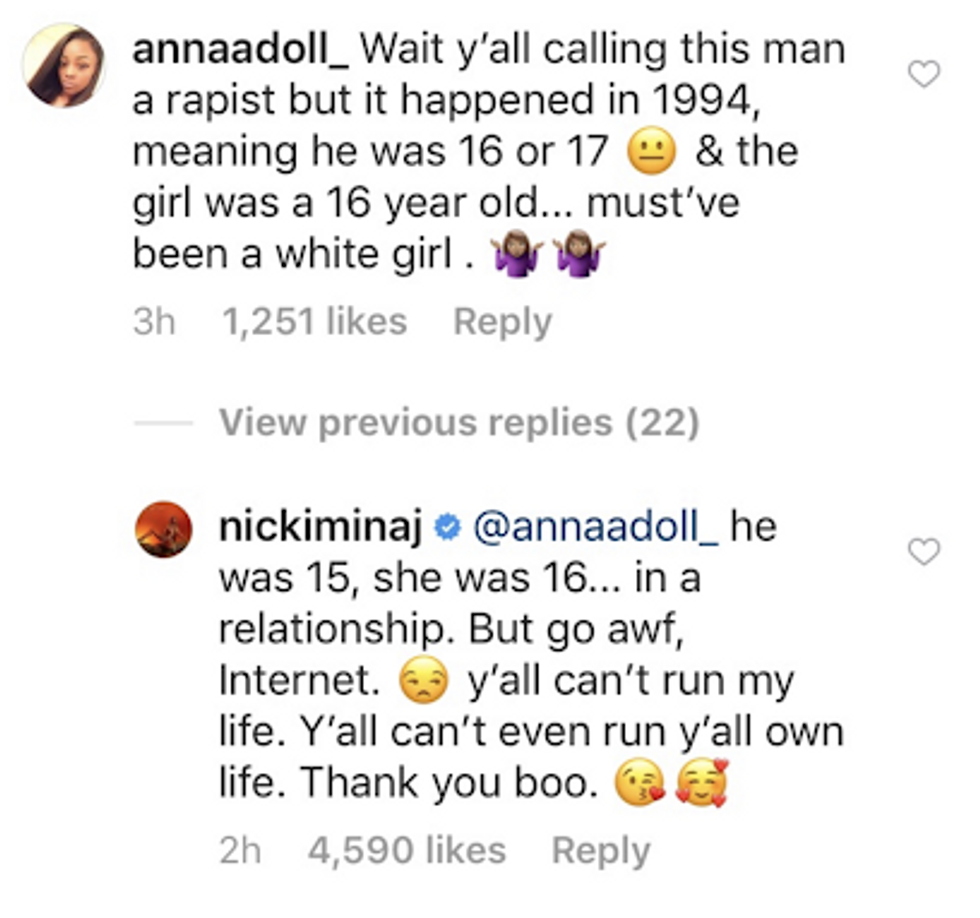 @nickiminaj
Aside from attempted rape, Petty was arrested and charged in 2006 with first degree manslaughter. After pleading guilty, he was sentenced to ten years in prison, though he was released in 2013 after only serving seven.
Minaj married Petty in October of 2019. The two share a one-year-old son together.