Brigham Young University has come under fire for the inaction of university athletics officials at a women's volleyball game where audience members bombarded black athletes with racial slurs and threats.
Relative of one such athlete, Lesa Pamplin, first spoke out against BYU in a viral tweet, giving a firsthand account of the alleged incident. She shared that black athletes on the Duke women's team were accosted with racial slurs throughout the match. As they continued to play through the barrage, the slurs evolved to threats so severe that a police officer had to accompany the players on and off the court afterwards. Pamplin wrote,
"My Goddaughter is the only black starter for Dukes volleyball team. While playing yesterday, she was called a n***er every time she served. She was threatened by a white male that told her to watch her back going to the team bus. A police officer had to be put by their bench."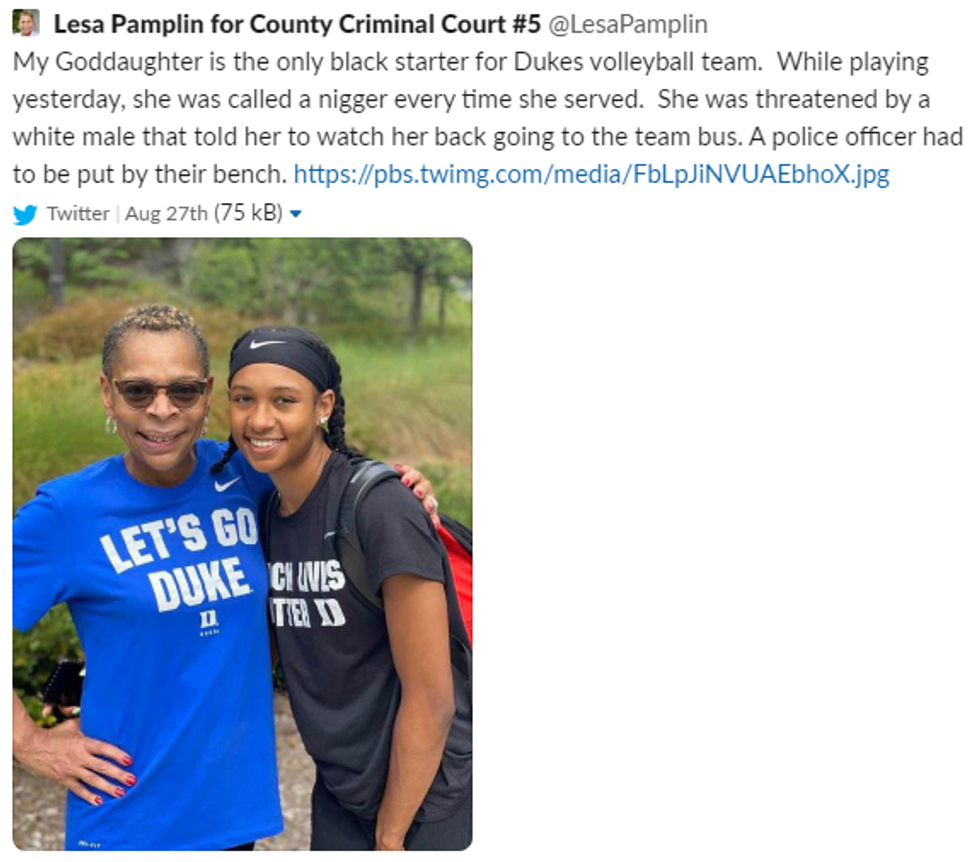 Starter for the Duke volleyball team, Rachel Richards, issued her own statement about the events at the game. She claimed that despite being made aware of the situation more than one, both coaches and athletics officials failed to intervene. She shared,
"Both the officials and BYU coaching staff were made aware of the incident during the game, but failed to take the necessary steps to stop the unacceptable behavior and create a safe environment. As a result, my teammates and I had to struggle just to get through the rest of the game, instead of just being able to focus on our playing so that we could compete at the highest level possible."
Richards also addressed why she and her teammates continued to play despite the verbal assault. Instead of protesting or stopping the game altogether, the young athletes did not want to give hecklers the satisfaction of seeing them stumble, and pushed through. She continued,
"I understand some people would have liked more to happen in the moment, such as an immediate protest and a refusal to play on. Although the heckling eventually took a mental toll on me, I refused to allow it to stop me from doing what I love to do and what I came to BYU to do; which was to play volleyball."
BYU has since responded to the incident, though they have not confirmed the specifics of Pamplin or Richards' accounts. Instead, they issued an apology to Duke and to the athletes, writing in part,
"BYU Athletics is completely committed to leading out in abandoning attitudes and actions of prejudice of any kind and rooting out racism. When a student-athlete or a fan comes to a BYU sporting event, we expect that they will be treated with love and respect and feel safe on our campus. It is for this reason BYU has banned a fan who was identified by Duke during last night's volleyball match from all BYU athletic venues."
While BYU claimed to have removed the individual noted by Pamplin, other audience members say that the problem went beyond just one man. A single person could have been removed by police, whereas Pamplin's account detailed several other audience members joining the heckling, revealing an underlying culture BYU has failed to address.
Richards maintained that while the audience's behavior was unacceptable, the players on the BYU team showed "nothing but respect and good sportsmanship." Still, a statement from Duke revealed that their teams will not be returning to BYU facilities in the near future, and that upcoming games have been moved to different locations to ensure the "safest atmosphere for competition."
The incident has since gone viral online, drawing attention from NBA all-star LeBron James, who responded to Pamplin's original tweet,
"You tell your Goddaughter to stand tall, be proud and continue to be BLACK!!! We are a brotherhood and sisterhood! We have her back. This is not sports."
Though grateful for the support, Richards reiterated that she is not interested in "calling out" BYU. Instead, she asks that faculty and athletes undergo anti-racist training to fully understand the weight of the situation. She wrote,
"It is neither my nor Duke volleyball's goal to call BYU's athletics out but rather to call them up. This is not the first time this has happened in college athletics and sadly it likely will not be the last time."