Jason Derulo's ex, Jena Frumes, is speaking up for single mothers in the most telling way.
---
After splitting in 2021, Derulo and Frumes have kept their fans guessing as to whether or not they'll be reconciling. The two share a thirteen-month-old son and have continued to co-parent in their time apart.
Now, Frumes is shooting down any idea that she and Derulo will get back together. After an Instagram commenter slung a sexist slur at her, the model clapped back.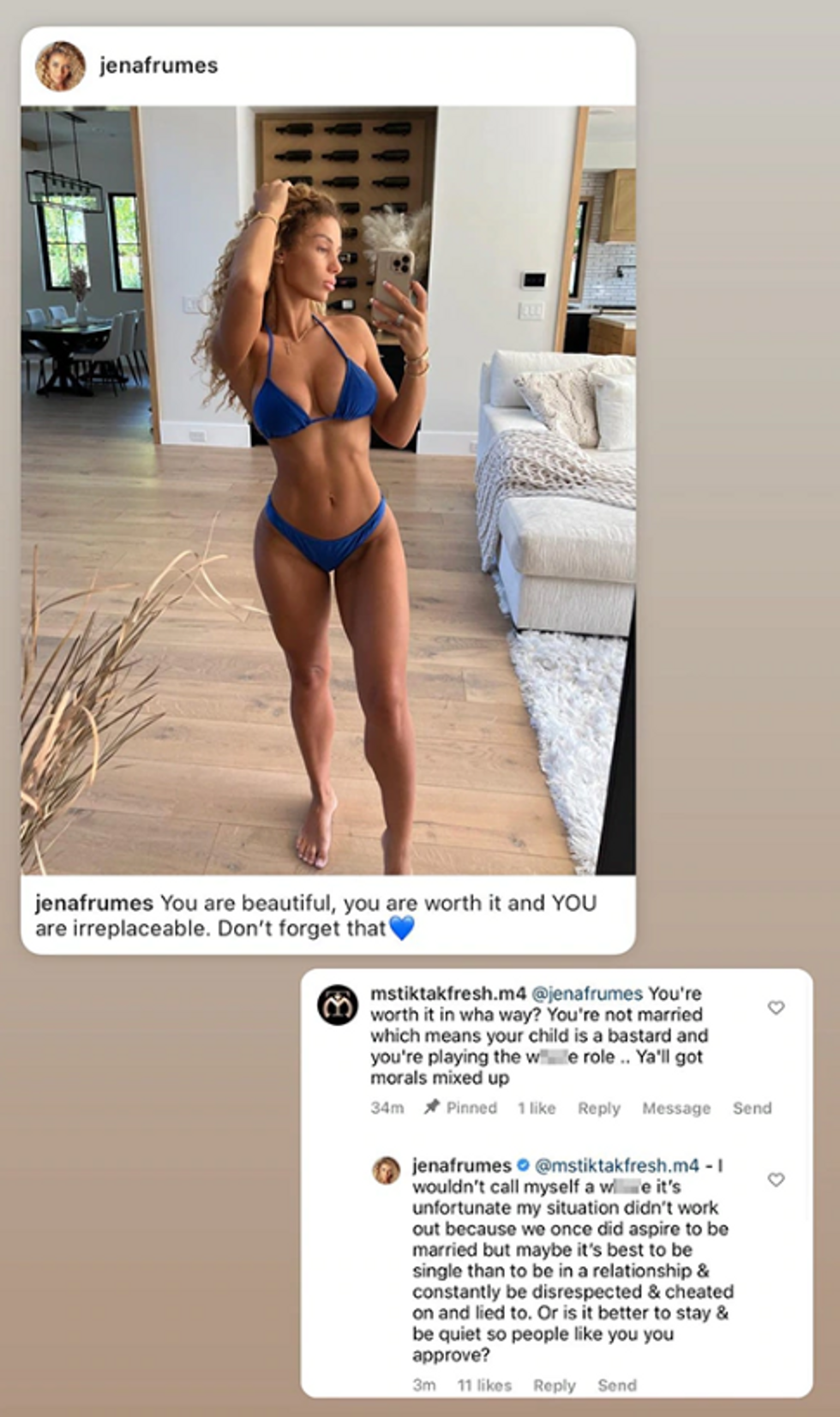 Instagram @jenafrumes
Frumes responded,
"I wouldn't call myself a w---e. It's unfortunate my situation didn't work out because we once did aspire to be married but maybe it's best to be single than to be in a relationship and constantly be disrespected and cheated on and lied to. Or is it better to stay and be quiet so people like you approve?"
Her reply revealed the reason behind her split with Derulo, alleging cheating on his part. But Frumes wasn't done there. She posted another response to her story, calling out people who shame single mothers.
"Women really don't deserve to be treated and judged the way they are. No one aspires to be a single mom. It's the biggest heartbreak and failure for me personally knowing I'm alone in this when I wanted love and wanted marriage and the happy family unit."
Frumes directly referenced her situation as she continued,
"If a man wants a different girl every week over his family I'll never accept that. We will never be able to make it work 'happily.' I was straight up told that I should 'turn the other cheek.'"
She also mentioned that she does not receive child support, and that she would never be "OK with sharing a lover." Frumes finished her statement offering support to others in her situation.
"If the streets come first I can't change that so stop blaming the women like we chose the single mother life...You don't know what women go through to try and 'make it work.' It was never about money or dating someone famous. I was in love and we planned a baby and life together! It didn't work out and life must go on. Leave me alone."