Stars from the medical drama hit ER reunited Thursday night on a Zoom call, reminiscing the good old times and the great moments they shared together.
---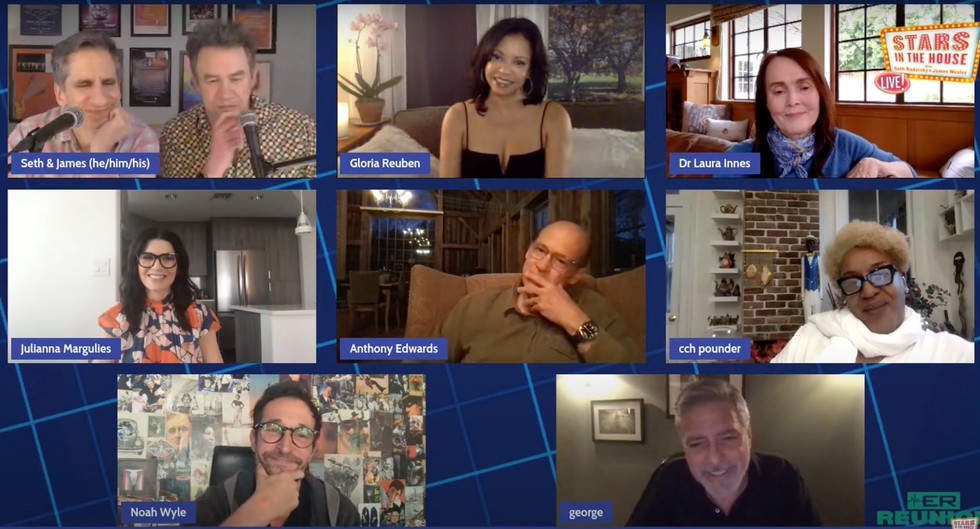 ER Reunion
ER was NBC's medical show from 1994 to 2009 and won 22 Emmys out of 124 nominations. The reunion benefits Waterkeeper Alliance, a nonprofit that focuses on citizen's action on issues that affect our waterways such as pollution, and climate change.
Last night, to celebrate Earth Day, the cast of ER joined hosts Seth Rudetsky and James Wesley on "Stars In The House", a YouTube series that features stars singing, performing to support charitable services for those most vulnerable to COVID-19's impact. Gloria Reuben, who played Jeanie Boulet in the series, served as President of Waterkeeper Alliance and she is the one to thank for this iconic reunion.
Reuben was joined by the following members of the cast: George Clooney (Doug Ross), Noah Wyle (John Carter), Laura Innes (Kerry Weaver), Anthony Edwards (Mark Greene), Julianna Margulies (Carol Hathaway), Goran Visnjic (Luka Kovac), Ming-Na Wen (Jing-Mei Chen), Laura Cerón (Chuny Marquez), Yvette Freeman (Haleh Adams), Conni Marie Brazelton (Connie Oligario), Ellen Crawford (Lydia Wright) and CCH Pounder (Angela Hicks).

During their conversation, Clooney confessed he's rewatching episodes of the show because of his wife, who's a great fan. Mostly, throughout the entire reunion, the cast was incredibly grateful for the opportunity of collaborating with people they loved and respected artistically.
Clooney particularly remembered the moment they knew the show was going to be a hit:
"We knew suddenly, we were going to be working for a while. And the joy that came with that, people forget when our show came out. In the first few seasons we were doing tens of millions more than Friends. We knew how lucky we were!"
And when the conversation moved towards a possible reboot, Margulies said:
I think you have to leave what was so beautiful and move on. It feels like it would cheapen it."
But Ming-Na Wen was not of the same opinion and said she'd love to do it again, mostly for hanging out "with this group of people again."
ER is one of those shows that will remain in history for its popularity and outstanding influence on an entire generation. People from all over the world have decided to dedicate their lives to medicine and that is a clear example of what compelling and powerful television can actually do.
You can watch the entire reunion video down below and for more TV news click here!