"The Bachelor" star Clayton Echard responded to a TikTok user who said he cheated on his girlfriend.
---
On April 9, TikToker Sasha Narang, who has over 170,000 followers on the app, uploaded a now-deleted video with the caption, "um, so I think I just ended the bachelor's marriage last night (i had no idea) (wtf)."
She claimed that the night prior, she was in a dark bar when she was approached by a guy who started talking to her.
"So I'm responding, we're kind of flirting. Then he proceeds to ask me, 'do you watch The Bachelor?' And I go 'no,' cause I've never seen it before."
Shortly after Sasha's TikTok started picking up traction, Clayton responded to her claims on his Instagram story.
"I can't believe I'm addressing this. This is ridiculous. But let's just make this as easy as possible," he said before he showed his location from the night before in his phone settings.
In the caption, he wrote:
"People that make these false accusations should be held accountable. Trying to gain clout by ruining a relationship is embarrassing and extremely immature."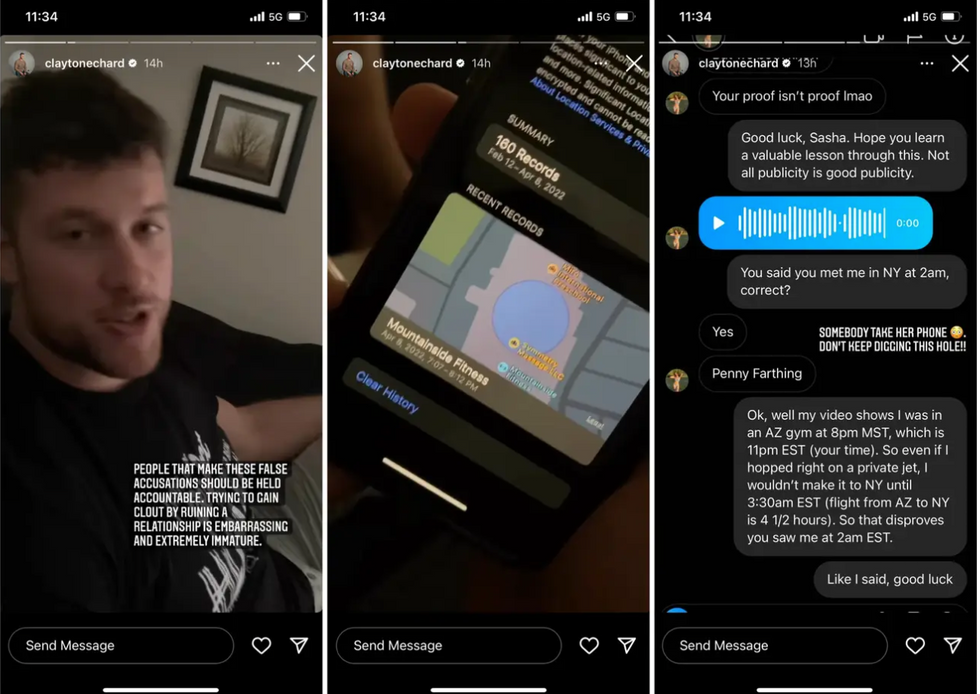 Clayton Echard via Instagram Story
On April 10, after deleting the original video, Sasha uploaded a new video to TikTok in which she apologized and explained what really happened.
"I want to start by saying I am so sorry to Susie and Clayton," she began. "I was genuinely under the impression that I was with him. And after getting camera footage, Reality Steve was able to confirm with me that it was not him. The footage was from behind, but it doesn't seem to be his build. He would know much better than me, but yeah. Between me, him, Susie, and Clayton, we are the only people who have access to this photo, and it is not him."